Peter
Our gear depends on the nature of the job or the location of the shoot but this is pretty much the default gear we'd take on a normal shoot:
1. Peter's 5D MkIII plus lenses – 28mm, 50mm, 100mm and 70-200mm
2. Geraldine's 6D plus 24-105mm lens
3. Video tripod – EIMAGE A-7402A
4. Camera tripod – Benro A1681T
5. Light stand and umbrella
6. Accessories
We'd bring the Think Tank Airport V2.0 rolling bag whenever and wherever we can, but if the shoot is, for example, up in the mountains, or if we have to take public transport, then we'd use the Lowepro Video Fastpack 350. This bag takes the majority of your gear and fits a surprising amount of gear in a relatively compact package.
The photos below were taken just before our shoot with Kalsada, and it was up in the mountains not the ideal terrain for a rolling camera bag! We had to take bus from Manila to Baguio, then jeepneys and taxis as well as hike around La Trinidad so a backpack was a much better option than the rolling bag.
Breakdown of my gear:
1. Think Tank Pixel Pocket Rocket
2. Canon batteries – we advise you to buy the original Canon batteries because you minimize the risk of messing up your camera body; we've had an error message flash up and the camera refused to work with fake batteries.
3. Rode VideoMic Pro – better design, small enough to fit in a small bag
4. Sony Wireless Mic – UWP – V1
5. Canon 5D Mark 3 with 70-200 lens
6. Canon 100mm Macro lens
7. Canon 50mm lens
8. Canon 28mm lens
9. F & V LED Light 
10. Anker battery pack
11. Head torch from Decathlon
12. Oakley sunglasses
13. Cables for the Sony wireless mic
14. GoPro Hero 3 Black
15. Zoom H1 sound recorder
16. Eneloop Rechargeable batteries
17. Kindle paperwhite
18. Transcend 1TB HDD – available at Lazada PH! ( we carry two of these one in each of our bags and back up at the end of each day.)
19. Macbook charger
20. Nexus 4 charger
21. 15" Apple Macbook Pro Retina
22. GRID Magazine – Easily our favourite Filipino magazine with excellent photography and well worth checking out.
23. Canon batter charger
24. GoPro battery charger
25. Q rapid strap from taobao
26. Waterproof jacket
What I love about the bag is that I can fit everything in and despite it being heavy its comfortable to wear all day.
Besides the camera bag, we also carry a tripod bag that includes a video tripod,  camera tripod, light stand and an umbrella.
---
 Geraldine
Most of my stuff is in Peter's bag, he's my gear mule! I carry my camera with me for easier access, and to avoid nagging him to take out my camera QUICK because I need to take photo of this!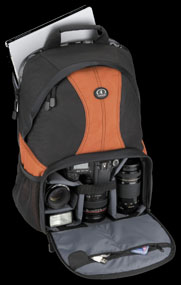 My old camera backpack – a Tamrac Aero 80 – lacks support for my back so I'm ditching it and I'm still looking for a better option. I remember purchasing it before I went to Beijing 5 years ago, there weren't much choices then so I picked the nicest looking one, an ugly rust colour. It has served me well, I was able to cram all my Lomography toy cameras plus my Canon 400D and 18-125 lens, and a laptop!
I still use this bag on short day trips. The heaviest I've carried it was with Nikon D800, 24-70, 70-200 and a 15″ Macbook Pro + charger, my back wasn't happy at the end of the day.
This is my basic gear that I have in my backpack, the contents sometimes change, as I add a hard disk drive, kindle or an iPad on some jobs. This was from our recent shoot in a slum area next to the train tracks.
Breakdown:
Umbrella
Rain jacket
Yongnuo wireless flash triggers, extra batteries
Zoom H1 sound recorder – this thing moves back and forth between me and Peter, but I mostly carry this
Canon 430EXII flash loaded with Eneloop rechargeable batteries
Think Tank SD Pixel Pocket Rocket for SD cards – I have three 32GBs, I need more.
Canon battery
Water – I'm not a big fan of water, but I try to bring a bottle every time.
Small pouch for miscellaneous stuff – body and lens caps, extra batteries, cables
Decathlon 22L backpack – I'm not a big fan of the design as there's only one zip pocket, but it comes with waterproof cover and the back support is great, with support straps on the chest and waist area.
Canon 35mm prime lens – what I usually use when I can't be bothered to bring the 24-105
Canon 6D with 24-105mm
Camera protective wrap that Peter's mum made for us, we have several of these to wrap lenses. Domke brands sell for 13USD.
Photo prints to give away – it doesn't cost much to have photos printed and the look on their face when you give them a print is always worth it. Always try and get names and contact details when you photograph someone.
Pouch for personal stuff – like wet wipes, tampons, mints, tissue.
Notebook and pen – to write names, addresses, ideas.
Boya shotgun video mic – it's cheap at 3,000 Php, but a pain to use when shooting stills, my forehead just keeps hitting on plastic end because it sticks out further than the viewfinder. We badly needed one for a big project, and Rode VideoMic Pro wasn't available that time (and 14k market price)!!
So now it's out in the open, we are big targets for robbery! But we've learned our lesson, we have ALL our gear insured. It's worth paying extra for peace of mind, and fingers crossed (touch wood) this does not happen!
We've looked at Crumpler, Case Logic, Lowepro, Benro, Tamrac, Tenba, among other brands in the mall. They all look… bulky. I have my eye set on Kata Bags, though not a lot of stores carry this brand because of the Manfrotto merger! So question is, what is a good brand camera backpack for this little lady, that won't eat me up whole because it's bigger than me?