Music has always been an important part of my life. From a very young age there was always music in the house and as teenagers my parents were really supportive, even going so far as to driving 45 minutes to come and pick up my brother at midnight from concerts.
I had to do cover quite a few music gigs in my first real photography job in Korea and one of the first big assignments we had for ROKON magazine was covering the first Pentaport festival. It was a great experience, plenty of hard work shooting all day then editing and after a few hours sleep getting up and doing the same again.Getting to watch Ash, Ocean Colour Scene, The Chemical Brothers and Muse perform outside of the UK was amazing.
I've seen a few music festivals advertised in the Philippines but they are usually out of town or only have a couple of acts I'm interested in seeing play live.
We were contacted recently to film at the Paradise Music Festival for a VEVO and MTV show called The Drop. It's a show presented by Ian Erix, a US punk pop star, who is travelling around the world visiting different music festivals. It was a little last minute but I was really interested to see some of the performers and to go behind the scenes of one of the music festivals here.
We arrived a little late; after the sun had set, which meant that filming, would be a challenge, as we would be relying on artificial light. Still on the way to the media tent On Dharma Down a local band were playing and they sounded great so we'll definitely be looking to watch one of their smaller gigs soon.
The first big international artist to play was Austin Mahon .I guess I must be getting old but I'd never heard of him. He's a young singer from Texas and fair play his whole team really gave it everything on stage. Austin was also nice enough to give us our only interview of the evening and backstage his team was very friendly more than happy to talk and chat. At 36 I know I'm probably two decades older than his demographic but I wish him all the best with his career. The music industry these days is one tough place to survive, let alone prosper.
Next up was Wiz Khalifa and you could smell his signature KK a mile away. We didn't get to speak to him as his management was keeping him under wraps and to be honest it seemed like him and his crew were busy getting in the right "frame of mind" before and after his performance. Judging by the amount of green being inhaled, I thought his performance might have been a bit flat or subdued, boy was I wrong. He completely killed it, got everyone up, put on a great show and even had time to burn a few down on stage. True to the stereotype he left the stage spreading the message of peace and love. I have to agree with him it's about time the world takes a good long analytical look at the war on drugs and how many lives it's destroyed. Legalize it.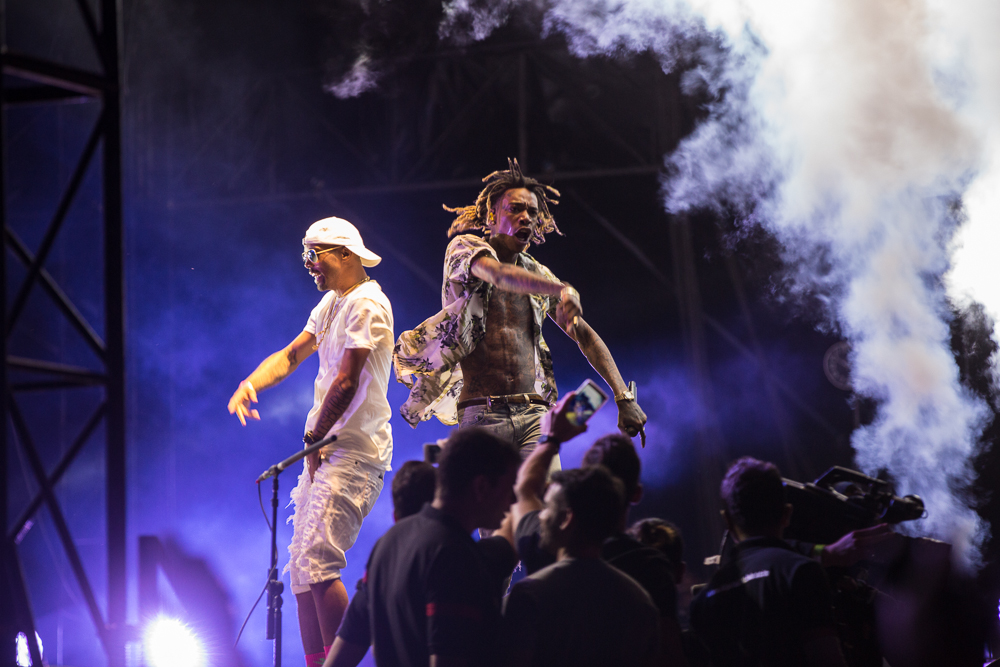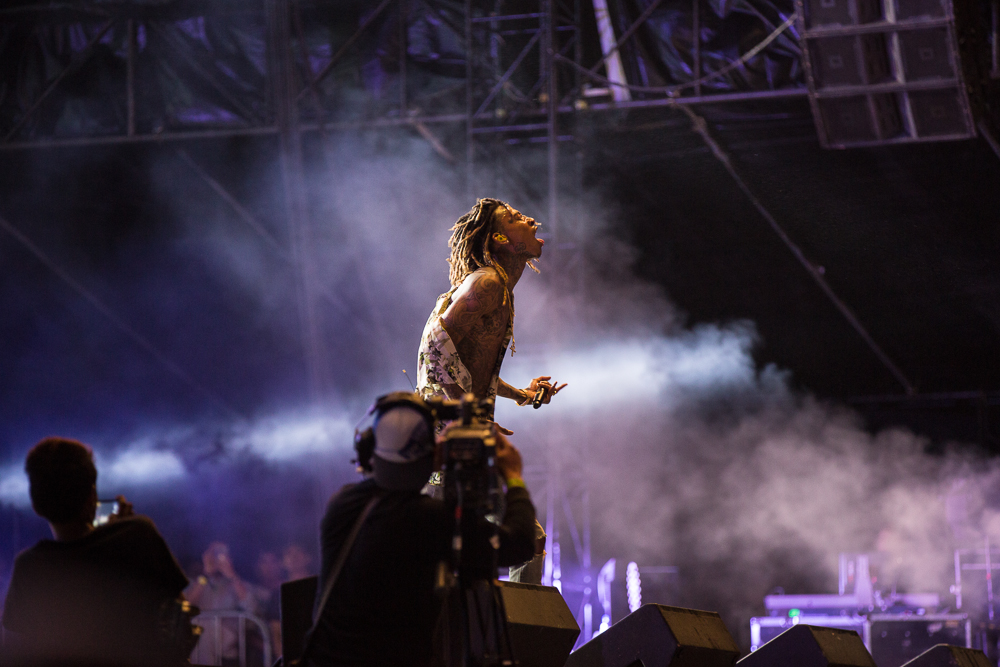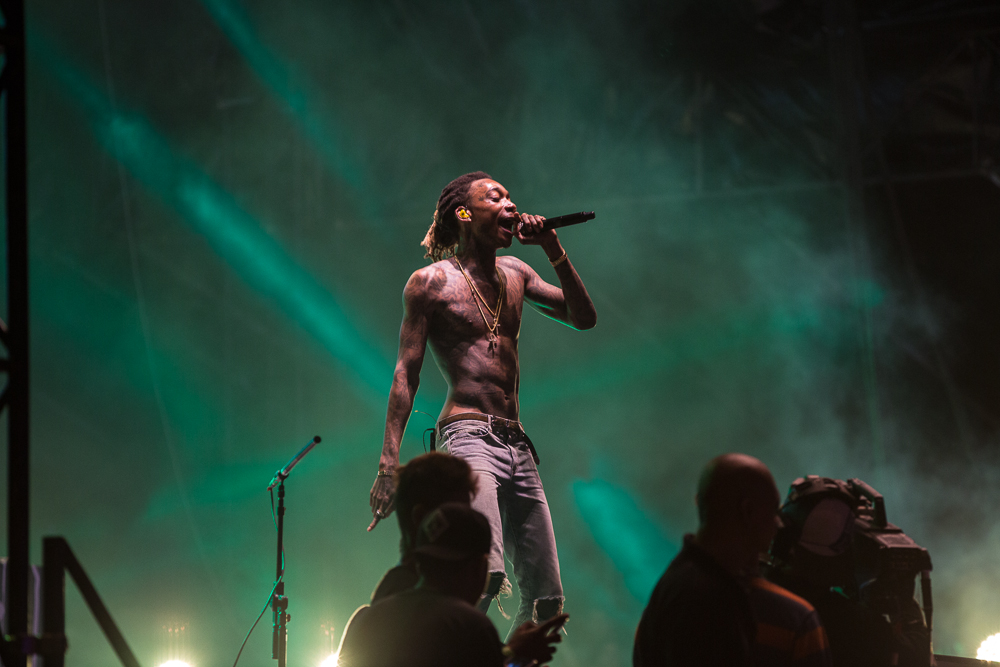 We were shut down by Wiz's management, but we didn't even close enough to speak with Kanye's team. Security was tight, paint on jeans tight. He turned up in a black Benz and after making the crowd wait put on a consummate performance.
I've been Kayne West fan since his first album and to be honest I sort of gave up after three albums as the auto tune era really put me off hip hop. I have to admit that not listening to any of his most recent work led me to feel like a dinosaur at the festival. All these kids were having the time of their life getting down to tracks I've only heard snippets of. It made me feel old but I could hear on occasions his trademark use of old soul records and I guess the track that really stood out was Blood on the Leaves. Sampling Billy Holiday singing about the lynching and hanging of black people in the south is bold, but then I guess everything about Kanye West is bold. He isn't the type of artist to censor himself. I guess one of the other reasons I've stopped listing to his music is his portrayal in the media. His relationship with a certain lady (I can't bring myself to type her name out on this blog) has almost become as big as his music. He's branched out into other areas and become a brand. I'm not too keen on his range of footwear or his fashion but he comes across as being very smart and opinionated. I can remember vividly watching an interview with Zane Lowe from the BBC where he discussed how frustrated he is with how he isn't being given more credit and more chances in differing creative fields. He came across as one angry frustrated man and hearing him perform tracks from Yeezus he really does go hard.
Just like everything else Kanye, his stage was controversial, a blank stage with just a spinning, rotating bank of 792 Avolites. It was incredibly dramatic and visually very powerful. It was the perfect brooding backdrop for his uncompromising music and for photographers it was easy to take great images but almost impossible to photograph him clearly which made me think about how he wants to be portrayed and how concerned he is with his image. I had a blast trying to photograph him on stage and I'm really happy with how some of the images came out.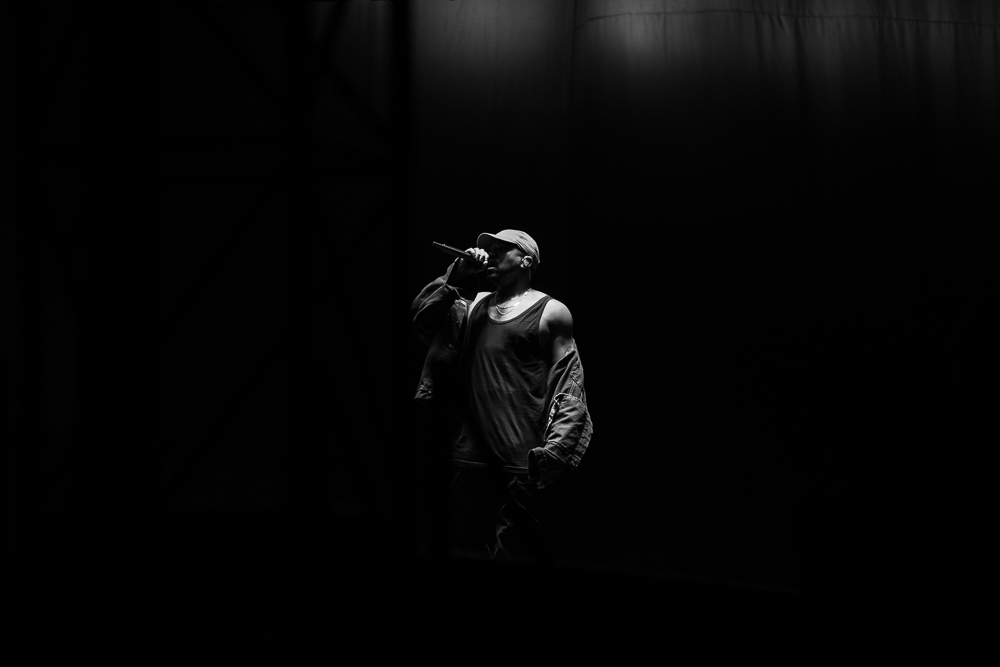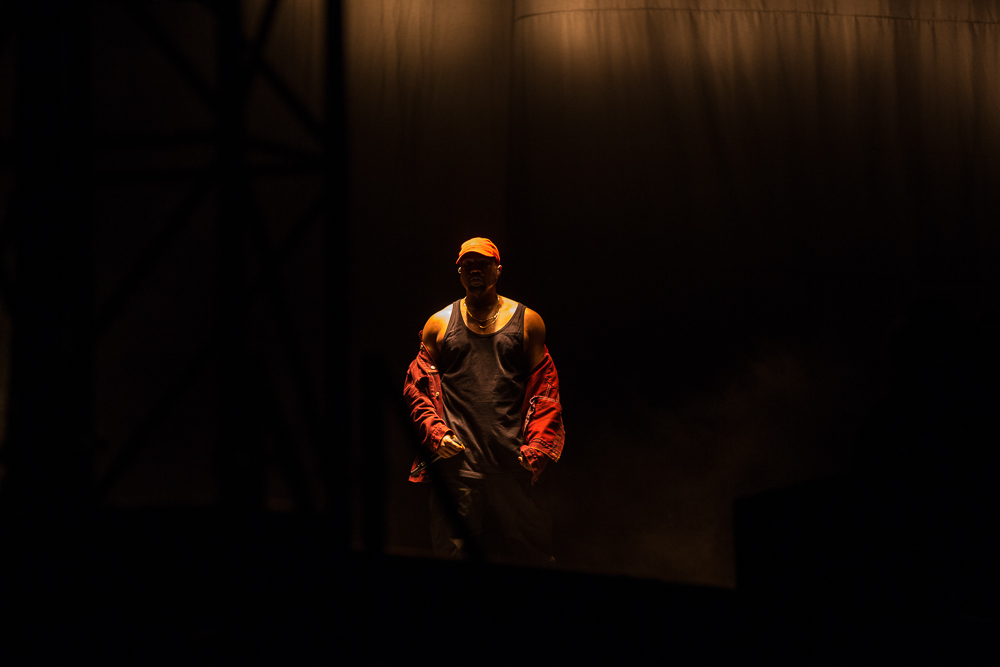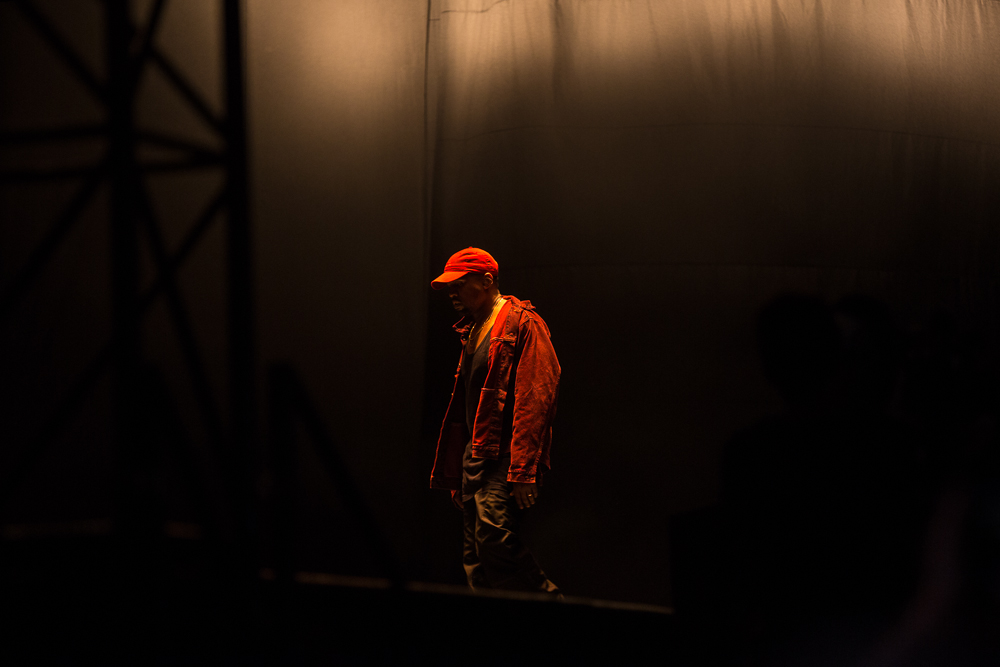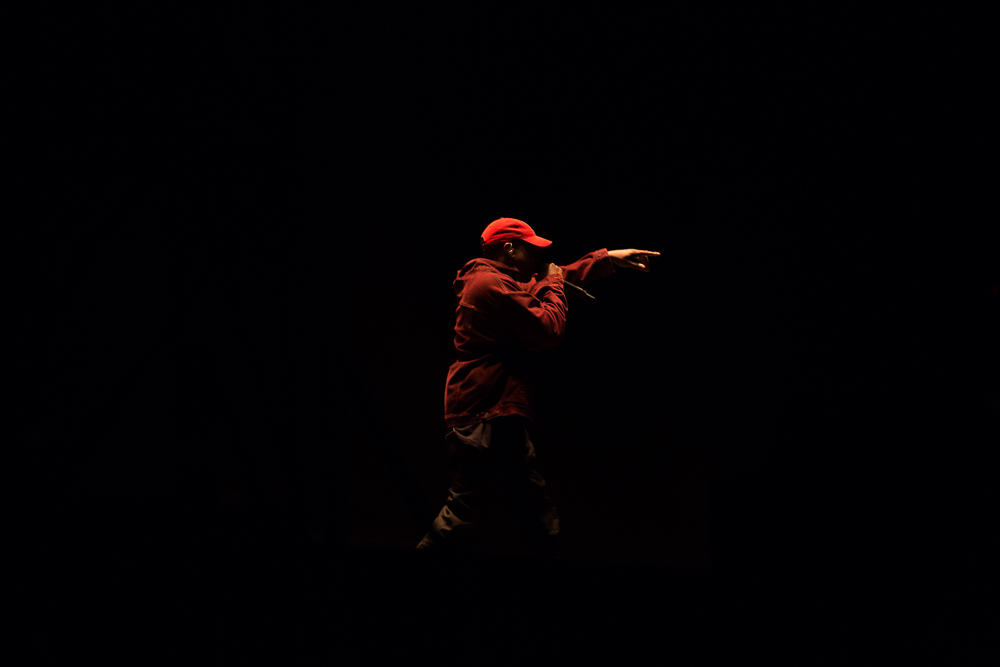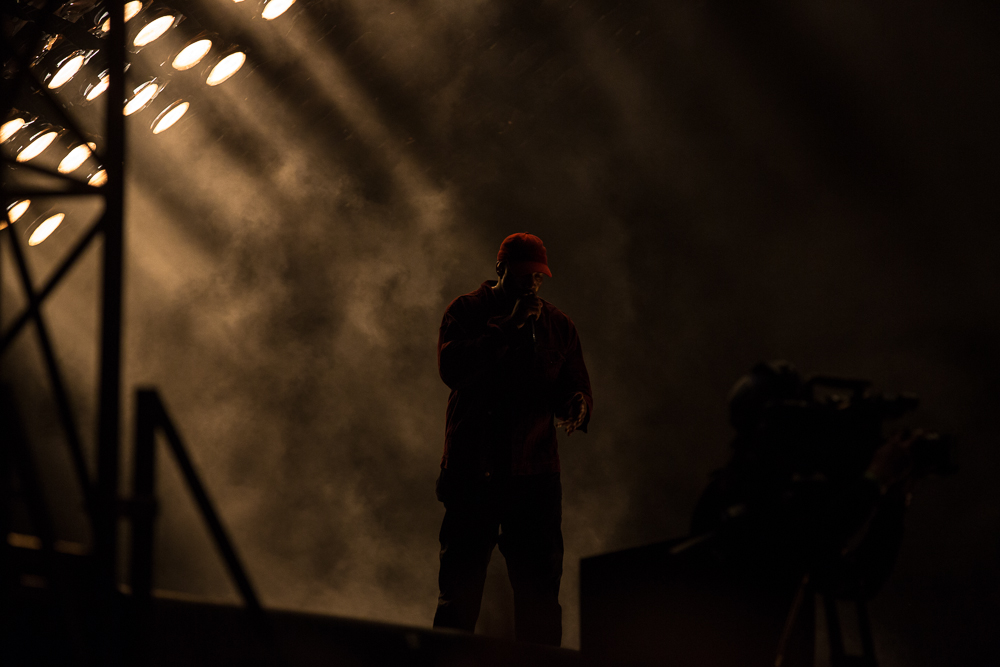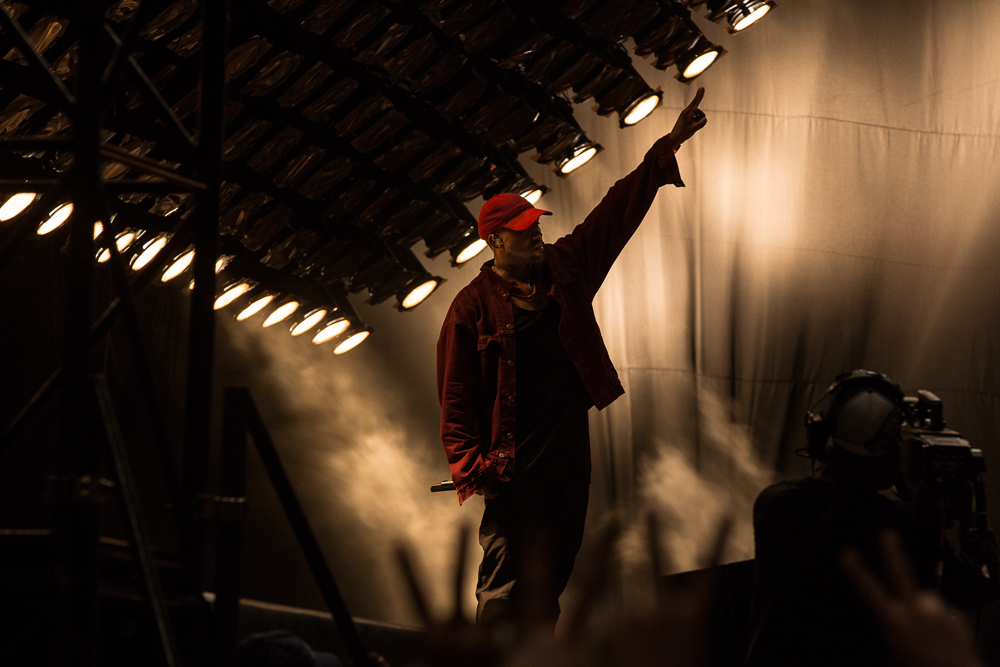 The one part of the set I wasn't overly keen on was his delight in whipping up the crowd and getting them to sing over and over again the line " I made that bitch famous" referencing his ongoing spat with Taylor Swift. I can see how Kanye might not like the safe, clean, white poppy nature of Tay Tay but I guess it's not in his DNA to either ignore it or he just feels compelled to court controversy. Either way I found it unnecessary and a little childish.
Whilst writing this I went back and listened to Yeezus and it's a superb 40 minutes of challenging, controversial, angry, contradictory, egotistical music. It's supremely edited down by Rick Rubin and it's a very very sharp album. One I'm glad I got the chance to be reminded of, by a stellar performance from one of the biggest stars in the world. Yes his ego is big, massive in fact but his music (I can't comment on his other creative endeavours) really does back up almost every word he says. To stay relevant in any creative industry for almost two decades is tough, in music arguably even harder. But to change the way people think about hip hop and change people's perceptions of what it can be is something completely different. He can back up his words with his musical talent. I just wish he'd find a bit more peace and contentment and perhaps being a father and tracks like his collaboration with Paul McCartney on Only One is a sign of this might be happening. I guess I should go and listen to Pablo and find out.